8 products
ACR ResQLink 406 MHZ GPS Buoyant PLB-400
BERL2921
Regular price
$479.99
Save $-479.99
/
$479.99
or 4 fortnightly payments of
$119.99
---
INFORMATION
Small but resilient, the ResQLink 400 has been professionally engineered and tested to ensure it can withstand even the harshest elements. This buoyant Personal Locator Beacon requires no subscription for use and can be utilized to enhance your safety in a wide variety of environments. Whether on land, at sea, or in the air, trust that the ResQLink's satellite precision and military durability, puts rescue in the palm of your hands.
Features and Benefits: 
No Subscription Required
GPS and Galileo GNSS
Built-In Buoyancy
Strobe and Infrared Strobe
Global Coverage
MEOSAR Compatible
Small and lightweight
5 year battery life
24+ hours Operational Life**
Multi-function Clip System Included
**Based on test report from accredited laboratory
With three levels of integrated signal technology '" GPS positioning, a powerful 406 MHz signal, and 121.5 MHz homing capability '" the ResQLink 400 quickly and accurately relays your position to a worldwide network of search and rescue satellites. Additionally, a built-in strobe and infrared strobe facilitate nighttime, or other low visibility rescues.
Wherever your adventure takes you, whether it's a trip to the highest mountain peaks, the most undiscovered terrain, or the vastest of oceans, rest assured that the ResQLink 400 always activates easily. Simply deploy the antenna, press the ON button, and the beacon will do the rest for you by effortlessly guiding rescuers to within 100 meters or less of your position.
Due to innovative design elements, multi-function clips can be used in conjunction with the beacon, providing numerous wear-ability options that address a variety of usage applications. The increased ease of incorporating the ResQLink 400 on your person, or with your gear, just made all your adventures not just safer, but more convenient too.  
As a leader in life-saving products for both professional and recreational use, ACR provides unparalleled safety and peace of mind with the ResQLink 400 Personal Locator Beacon.
Garmin Gpsmap 64X Handheld GPS
010-02258-02
Regular price
$499.99
Save $-499.99
/
$499.99
or 4 fortnightly payments of
$124.99
---
Explore the World with Reliable Navigation in Hand
Rugged and water-resistant design with button operation and a 2.6" sunlight-readable color display
Preloaded with TopoActive maps, featuring routable roads and trails for cycling and hiking
Know where you're at with a high-sensitivity receiver with quad helix antenna and multi-GNSS support (GPS, GLONASS and Galileo) and 3-axis compass with barometric altimeter
Wireless connectivity via BLUETOOTH® technology and ANT+® technology available on GPSMAP 64sx and GPSMAP 64csx models
GPSMAP 64csx adds 8-megapixel autofocus camera that lets you geotag photos
Battery life: up to 16 hours in GPS mode
| | |
| --- | --- |
| PHYSICAL DIMENSIONS | 2.4" x 6.3" x 1.4" (6.1 x 16.0 x 3.6 cm) |
| DISPLAY SIZE | 1.43" x 2.15" (3.6 x 5.5 cm); 2.6" diag (6.6 cm) |
| DISPLAY RESOLUTION | 160 x 240 pixels |
| DISPLAY TYPE | transflective, 65K color TFT |
| WEIGHT | 7.7 oz (217 g) with batteries |
| BATTERY TYPE | 2 AA batteries (not included); NiMH or Lithium recommended |
| BATTERY LIFE | 16 hours |
| WATER RATING | IPX7 |
| HIGH-SENSITIVITY RECEIVER | |
| INTERFACE | high speed mini USB and NMEA 0183 compatible |
| MEMORY/HISTORY | 8 GB (user space varies based on included mapping) |
Garmin Etrex 10 Hand Held Gps
010-00970-00
Regular price
$179.99
Save $-179.99
/
$179.99
or 4 fortnightly payments of
$44.99
---
eTrex 10 has an enhanced 2.2 in monochrome display that's easy to read in any lighting situation. Its easy-to-use interface means you'll spend more time enjoying the outdoors and less time searching for information. Both durable and waterproof, eTrex 10 features the legendary toughness that's built to withstand the elements – be it dust, dirt, humidity or water, none of which are a match for this legendary navigator.
Features:
Worldwide basemap
2.2" monochrome display, easy to read in any light
GPS and GLONASS satellites for faster positioning
Paperless geocaching
25-hour battery life with 2 AA batteries
Find Fun
eTrex 10 features paperless geocaching by supporting GPX files for downloading geocaches and details straight to your unit. Visit OpenCaching.com to start your geocaching adventure. By going paperless, you're not only helping the environment but also making your geocaching more fun. eTrex 10 stores and displays all the information you need, including location, terrain, difficulty, hints and descriptions, which means no more manually entering coordinates and paper print outs. Simply upload the geocache to your unit and start hunting for caches.
Keep Your Fix
With its high-sensitivity, EGNOS-enabled GPS receiver and HotFix® satellite prediction, eTrex 10 locates your position quickly and precisely and maintains its GPS location even in heavy cover and deep canyons. The advantage is clear — whether you're in deep woods or just near tall buildings and trees, you can count on eTrex 10 to help you find your way when you need it the most.
Go Global
The new eTrex series is the first-ever consumer-grade receivers that can track both GPS and GLONASS satellites simultaneously. GLONASS is a system developed by the Russian Federation that will be fully operational in 2012. When using GLONASS satellites, the time it takes for the receiver to "lock on" to a position is (on average) approximately 20 percent faster than using GPS. And when using both GPS and GLONASS, the receiver has the ability to lock on to 24 more satellites than using GPS alone.
Specifications:
Unit dimensions: xHxD: 2.1" x 4.0" x 1.3" (5.4 x 10.3 x 3.3 cm)
Display size: xH: 1.4" x 1.7" (3.6 x 4.3 cm); 2.2" diag (5.6 cm)
Display resolution: WxH: 128 x 160 pixels
Display type: transflective, monochrome
Weight: 5 oz (141.7 g) with batteries
Battery: 2 AA batteries (not included); NiMH or Lithium recommended
Battery life: 25 hours
Waterproof: yes (IPX7)
Floats: no
High-sensitivity receiver: yes
Interface: USB
Maps & Memory:
Basemap: yes
Preloaded maps: no
Ability to add maps: no
Built-in memory: no
Accepts data cards: no
Waypoints/favorites/locations: 1000
Routes: 50
Track log: 10,000 points, 100 saved tracks
Features & Benefits:
Automatic routing (turn by turn routing on roads): no
Electronic compass: no
Touchscreen: no
Barometric altimeter: no
Camera: no
Geocaching-friendly: yes (paperless)
Custom maps compatible: no
Photo navigation (navigate to geotagged photos): no
Outdoor GPS games: no
Hunt/fish calendar: yes
Sun and moon information: yes
Tide tables: yes
Area calculation: yes
Custom POIs (ability to add additional points of interest): yes
Unit-to-unit transfer (shares data wirelessly with similar units): no
Picture viewer: no
Garmin ConnectTM compatible (online community where you analyze, categorize and share data): yes
Garmin Rhino 750 2 Way Radio
010-01958-02
Regular price
$849.99
Save $-849.99
/
$849.99
or 4 fortnightly payments of
$212.49
---
KEY FEATURES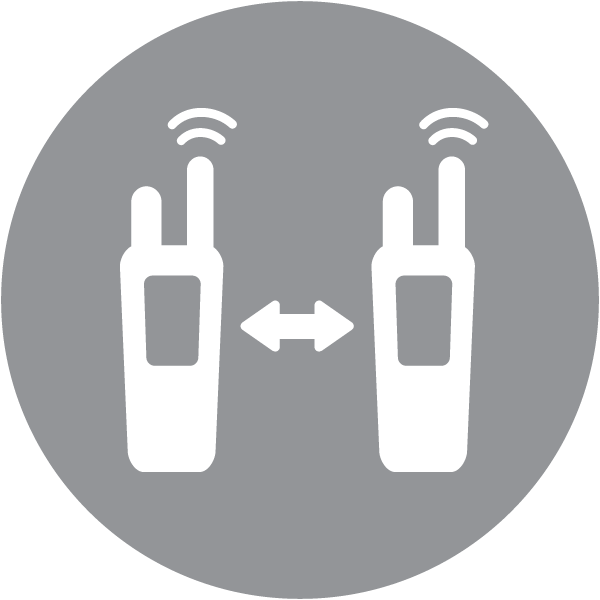 TWO-WAY
COMMUNICATION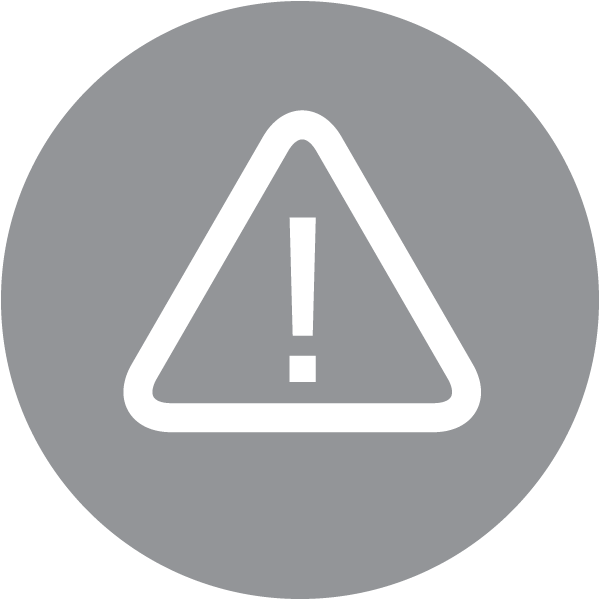 EMERGENCY
ALERT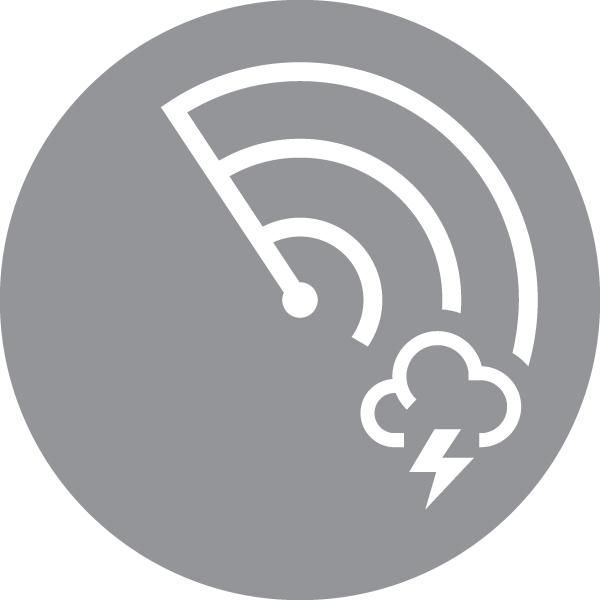 WEATHER OVERLAYS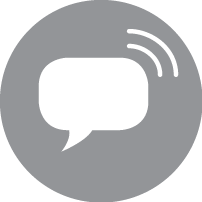 SMART
NOTIFICATIONS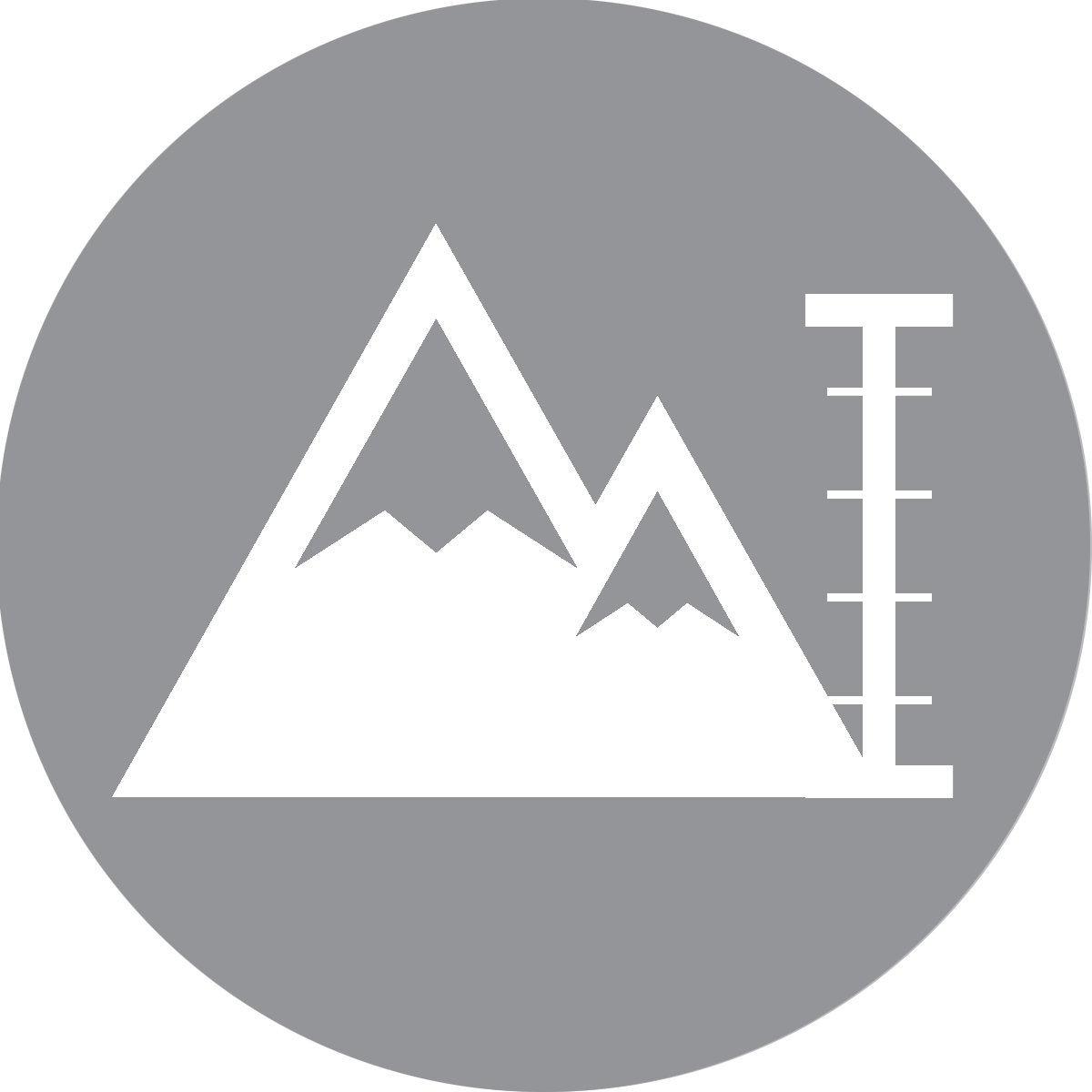 BAROMETRIC
ALTIMETER
Rugged GPS/GLONASS Handheld with Powerful 2-way Radio! All in one!
High-sensitivity GPS and GLONASS satellite reception; tracks in more challenging environments than GPS alone
Supports Active Weather forecasts and animated weather radar tracking
Emergency alert reporting lets other Rino 700 series users on the same channel know where to find you in an emergency; tells you position of help on the way
3-inch sunlight-readable touchscreen with dual orientation (landscape or portrait view)
In the Box:
Rino 750
Lithium-ion battery pack
USB cable
AC charger
Carabiner clip
Documentation

Combining map-guided trail navigation with 2-way radio communication, the Garmin Rino 750 handheld brings a whole new level of confidence to your outdoor adventures. It features a dual GPS and GLONASS satellite reception, Active Weather updates, emergency alerts with Position Reporting, Bluetooth® headset audio, 3-axis compass, barometric altimeter and more. Rino 750 supports advanced mapping capabilities such as BirdsEye Satellite Imagery (subscription required).
Navigate Anywhere — Communicate Everywhere
Each Rino series device features a dual-orientation, 3-inch color touchscreen that's glove friendly and easy to read, even in bright sunlight. A powerful 2-way radio transceiver lets you easily stay in touch with your fellow hunters, hikers or explorers in the field. You also have capability to send unit-to-unit text messages to other Rino users in your area — ideal for loud or windy conditions or when you don't want to disturb the wildlife. Rino also lets you share your waypoints, tracks, routes and geocaches wirelessly with other compatible Garmin handheld devices.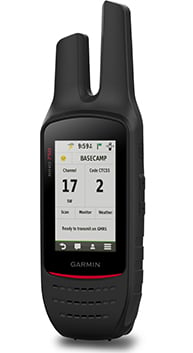 Find Your Friends
Rino series handhelds feature a unique Position Reporting capability that lets you send your exact location to other Rino users so they can see it on their map page.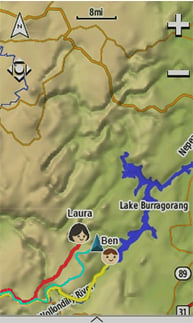 Pinpoint Your Position
With its high-sensitivity GPS and GLONASS receiver and quad helix antenna, Rino 750 quickly finds your position and maintains it — even in heavy cover or remote, off-the-grid locations. Plus, a built-in barometric altimeter and 3-axis compass make it easy to get your bearings without needing to hold the unit level.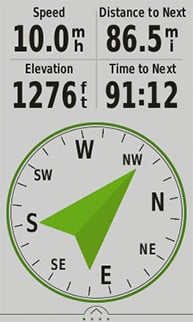 See Your Surroundings
Rino 750 handheld comes with a worldwide, shaded-relief basemap. With the wide array of detailed Garmin marine and road maps available, it's easy to install additional mapping products. Just use the unit's microSD™ card slot to load the compatible mapping options you want. Or you can use our free Custom Maps software to transform paper and electronic maps into downloadable maps for your device.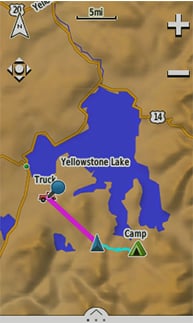 Works with Bluetooth-enabled Headsets
Syncing your Rino with a compatible Bluetooth-enabled headset enhances your radio communications, even under adverse weather or wind conditions. And by syncing your Rino with a compatible smartphone¹, you receive smart notifications (calls, texts, emails and more) right on your display, so you stay focused on the trail ahead while staying connected with friends and family back home.
Think Rugged and Robust
Durable and water-rated to IPX7, the Rino 750 is built to keep delivering vital mapping and tracking data, no matter what the elements throw at you. Battery life can exceed 14 hours in the field. Plus, the dual battery system lets you use the included rechargeable lithium-ion power pack or AA battery pack (sold separately).
Plan Your Next Trip
Take charge of your next adventure with BaseCamp™, software that lets you view and organize maps, waypoints, routes and tracks. This free trip-planning software even allows you to create Garmin Adventures that you can share with friends, family or fellow explorers. BaseCamp displays topographic map data on your computer screen, including contour lines and elevation profiles. It can also transfer an unlimited amount of satellite images to your device when paired with a BirdsEye Satellite Imagery subscription.
Turn Your Computer Into a BaseStation
Garmin BaseStation lets you turn your laptop (loaded with BaseCamp) into a field command center for tracking multiple Rino units. View real-time GPS information on the larger display of your computer while Rino serves as a router/antenna. And because it's Garmin GPS-based, you're in control of more effective search and rescue operations, even when internet or cell phone service isn't available.
Specifications:
| | |
| --- | --- |
| PHYSICAL DIMENSIONS | 2.6" x 7.9" x 1.6" (6.6 x 20.1 x 4.1 cm) |
| TOUCHSCREEN | |
| DISPLAY SIZE | 1.53" x 2.55" (3.8 x 6.4 cm); 3.0" diag (7.6 cm) |
| DISPLAY RESOLUTION | 240 x 400 pixels |
| DISPLAY TYPE | 3.0" transflective, 65K color TFT |
| WEIGHT | 12.3 oz (348 g) with battery pack |
| BATTERY TYPE | removable, rechargeable lithium-ion battery pack; AA battery pack (not included) |
| BATTERY LIFE | up to 14 hours (up to 18 hours with optional AA battery pack at 2 watts) |
| WATER RATING | IPX7 |
| HIGH-SENSITIVITY RECEIVER | |
| INTERFACE | high speed mini USB and NMEA 0183 compatible |
| MEMORY/HISTORY | 1.7 GB |
| TRANSMIT POWER | 5.0 watts, GMRS |
Garmin Topo Aus & Nz Lite Micro Sd / Sd
010-C1119-00
Regular price
$114.99
Save $-114.99
/
$114.99
or 4 fortnightly payments of
$28.74
---
Get enhanced detail on your GPs by simply plugging a TOPO Australia & New Zealand Lite card into your compatible unit. Whether you're on a 4WD track in the outback or trekking through Tasmania's wilderness, TOPO Australia and New Zealand Lite provides a wide array of topographic information from terrain contours, elevations and summits to coverage of perennial and intermittent lakes, rivers and streams. It features a searchable database that includes urban, rural and outback points of interest, including food and drink, lodging, fuel, camping locations, caravan parks, shopping, 4x4 locations and more.
Features:
Provides terrain contours and summit points at 40 m intervals for a more detailed view of the terrain
Contains more than 105,000 km of tracks, roads and outback trails; also displays 4WD destinations and hydrographic features: lake/river shorelines and perennial and seasonal streams
Shows national, state and local parks as well as parks and reserve areas
Includes built-in DEM data with 3-D shading and route elevation profiles on compatible devices so you can estimate terrain difficulty
Offers updated and new searchable points of interest in urban, rural and outback areas, including lodging, restaurants, homesteads, parks, camping locations and shopping
Displays updated non-routable road content
Garmin Etrex 22X Handheld GPS
010-02256-02
Regular price
$369.99
Save $-369.99
/
$369.99
or 4 fortnightly payments of
$92.49
---
With an array of compatible mounts eTrex is designed as a handheld for use on ATVs or bicycles in boats or on foot. Use the auto mount capability and City Navigator NT maps for turn-by-turn driving directions or use the rugged mount for your motorcycle or ATV. Wherever you think you might take eTrex it has the mapping and mounts to get you there.

Explore Confidently with the Reliable Handheld GPS -

2.2" sunlight-readable color display with 240 x 320 display pixels for improved readability
Preloaded with TopoActive maps with routable roads and trails for cycling and hiking
Support for GPS and GLONASS satellite systems allows for tracking in more challenging environments than GPS alone
8 GB of internal memory for map downloads plus a microSD card slot
eTrex 32x adds a 3-axis compass and barometric altimeter
Battery life: up to 25 hours in GPS mode with 2 AA batteries

SPECS -

Physical dimensions 2.1" x 4.0" x 1.3" (5.4 x 10.3 x 3.3 cm)
Display size 1.4" x 1.7" (3.5 x 4.4 cm); 2.2" diag (5.6 cm)
Display resolution 240 x 320 pixels
Display type 2.2" transflective 65K color TFT
Weight
5 oz (141.7 g) with batteries

Battery 2 AA batteries (not included); NiMH or Lithium recommended
Battery life 25 hours
Water rating IPX7
Memory/History 8GB
High-sensitivity receiver
Interface USB